7 Questions to Redefine Your Career Path this Decade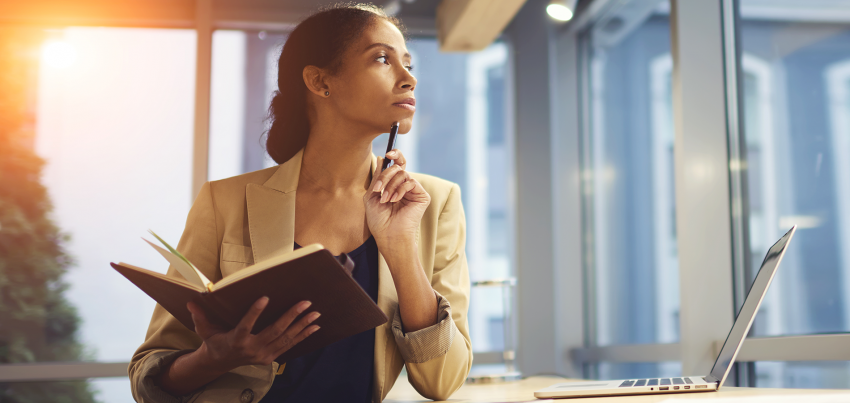 In this fast-paced world, rarely do you get to stop for a moment and reflect. As a result, you end up stumbling through life, riding on the waves that come your way. But, could there be a better, larger wave in sight? Perhaps you want to get out of the water and try something different.
The same can be said about your career—you don't always get to figure it all out at the get-go. You may not realize that the path you're walking on now no longer excites you, or if it has gone off track. It's never too late to reflect on your career and see if you're headed in the right direction.
Should you reevaluate your career?
A decade ago, modern job roles like an SEO Specialist or a Social Media Manager didn't exist—and these are now two of the most common careers in the digital age. There are a lot more doors open for you now than ever.
Moreover, the shift to automation and technological innovation foresees a division of labor between humans (48%) and machine or algorithm (52%) by 2025. This age of new industries and markets requires a new set of job roles like software developers and other skills for the future.
Questions to ask when reevaluating your career
A survey found that 48% of Filipino professionals said their current career path is not working for them, while 24% said the job didn't turn out to be what they expected. For this blog post, we're taking a page from Forbes' article about the questions you should ask yourself to prepare you for this decade.
Asking these life-changing questions is one way to view your situation in a more objective framework. So, kick back, be honest with yourself, and answer truthfully. Let's get started!
1. Does my work get me excited?
When you go to work every waking day, do you feel excited? If it doesn't give you the same spark of excitement or inspiration, you may want to hunt for a role that will reignite that feeling.
You don't have to drop everything and leave your work—perhaps you can speak first with your manager or team leader about what you want. They may have a role or task to offer that allows you to try something new.
2. What am I grateful for right now?
Before you rush into decisions, take a moment to acknowledge the good in your life first. This doesn't have to be limited to your career. You can also take note of the other things you're grateful for, such as good health, new experiences, healthy relationships, and personal development. This reflection should help you set up your goals for the future.
3. What accomplishments and strengths am I proud of?
Reflect on how far you've come career-wise. List down the skills you have honed that became your assets and were instrumental to your accomplishments. Lee Weinstein, former Director of Global Employee Communications at Nike, kept a daily journal and created a list of his strengths, jobs he could do, and his top accomplishments in life. He later started his own PR agency.
Additionally, identifying your unique strengths and abilities can help you find suitable career options that will be vital to meeting your career goals. It should also give you the confidence and push to make decisions that will lead you to the right path.
4. What professional and personal experiences shaped me?
Think of the top five meaningful experiences that shaped you and made a significant impact in your career, including your biggest challenges and failures. As you enlist these events, consider consulting with a trusted advisor. He or she can help you walk through the learning process and reassess your practices, assumptions, and principles.
For example, Steve Jobs was fired from the company he established but said that it was the best thing that could have happened to him. He loved doing his job, but his dismissal allowed him to "enter one of the most creative periods" of his life. He later started his own company, NeXT, which was later acquired by Apple. He then returned to Apple.
5. What is my personal definition of success?
Success could mean doing meaningful work and making a social impact, doing the thing you love while having the privilege of spending quality time with your family, or climbing up the corporate ladder. This is a particularly tricky question to answer since a person's definition and vision of success changes as time goes by. So, take your time to ponder on this.
6. Am I upskilling?
This is a critical question to ask yourself. Founder and CEO of WorkItDaily, J.T. O'Donnell, said you're not progressing in your job if you're not expanding or refining your skillset every two years. When this happens, you'll get left behind and defeated by newcomers in the workforce.
Additionally, O'Donnell said that if you aren't promoted, assigned to a different role, or tasked with new responsibilities in over three years, something needs to change. If you don't get opportunities to build your skills or learn new ones (e.g., project management) at work, you'll become stagnant. This assessment should tell you to get your career back on track.
7. Which new skill sets are essential for me to learn?
In this age of digital revolution, where automation, data analytics, and machine learning continue to evolve, you still have the edge over these advancements—emotional intelligence and soft skills. These are the things you want to learn and develop.
You can take seminars or workshops that exercise these skills, like how to lead with EQ or strategy execution. These workshops can practice several capabilities like people management, complex problem solving, and judgment and decision-making.
Over to you
Career transitions are common for people who have stopped seeing growth in their current job roles, who no longer feel inspired in their career anymore, or who are interested in trying something new. These questions can help you find clarity about your strengths and weaknesses, encourage you to look into training and development opportunities, and help you figure out where you want to be.
Find a mirror, look at your reflection, and ask yourself this: "Do I want to stay in this job for five or ten more years?" Whatever your answer is, you must be prepared to grab the opportunities this new decade has in store.