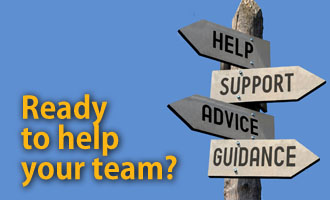 Managers and leaders need to deliver RESULTS.  And yet, they cannot do this alone.  They need to get things done through their people.
To ensure delivery of results and the attainment of business objectives, managers must be able to guide their people.  For plans to materialize, they must ensure that each member is performing according to standards.  Managers must learn how to empower and coach their people.  They must employ a hands-on approach that is effective — and not too strict nor apathetic.
How, then, do we achieve these goals?
With Guthrie-Jensen's EFFECTIVE PERFORMANCE COACHING Seminar, you and your people will be able to:
Get more results from team members by applying  important principles in coaching.
Formulate metrics for measuring employee performance.
Diagnose problems that detract from optimum employee performance.
Utilize the tools needed for effective coaching.
Use a variety of coaching approaches and customize them according to the different types of employees and performance concerns.
Coach both performers and non-performers to deliver maximum results.
Get employees to implement action plans that would bring their performance to an optimum level.
Learn and apply the best coaching techniques!  Unleash the leader and coach within you!  Join Guthrie-Jensen's Effective Performance Coaching Seminar today!
This program is for managers,  supervisors, and team leaders across different levels in the organization.  It is also ideal for professionals being groomed for leadership positions.
Past participants of the following programs would also benefit from this seminar:
People Handling Skills
Advanced People Handling Skills
Managing for Results
Leadership Communication
Communication Assertiveness
Effective Project Management
Sales Management
Managing People for Service Excellence / Managing Customer Service