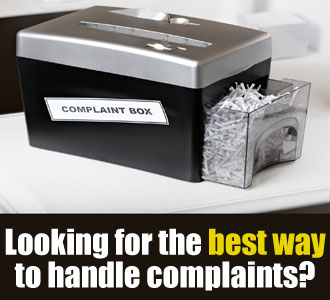 It is easy to provide great customer service to clients who have a great personality.  However, not every experience is a positive one.  People act differently when emotions are running high and expectations or demands are not being met (no matter how unreasonable they might be).
Still, the customer is the reason why businesses exist.  The good news: with the right mindset and application of comprehensive skills, people can handle the most difficult of situations.  More importantly, relationships with customers can even be strengthened.
From a brand perspective, proper handling of complaints strengthens your organization's reputation as professional and consistent.  Complaints are also resolved faster.  It is therefore no surprise that organizations that manage complaints well become the preferred provider of customers.  They are even willing to pay a premium for such good service.
With Guthrie-Jensen's Complaint Management, you and your people will be able to
Analyze the impact of your role and practice it in satisfying difficult clients.
Adjust well to clients by analyzing the behavior and psychology behind demanding clients.
Gain skills in defusing hot-tempered clients, dealing productively with those who feel superior, tactfully guiding clients who talk about non-business issues, and rebuilding rapport with them.
Use words that clients want to hear and avoid words that they don't.
Practice the right tone of voice and behaviors to dissipate anger.
Deal with irate clients effectively by being prepared mentally and emotionally.
Convert complaints into opportunities to recover and strengthen relationships with the client.
Apply listening techniques to identify a solution to the client's concerns.
Create solutions acceptable to both the client and your company.
Apply techniques in service recovery.
Ensure that all agreements and commitments are delivered.
Turn difficult situations into golden opportunities to strengthen customer relationships.  Join Guthrie-Jensen's Complaint Management today.