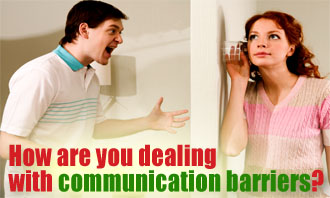 In order to get the most out of dealings with colleagues and clients, professionals need more than just technical expertise or job skills. Effective and confident communication is needed to get the point across. Communicators need to overcome barriers that cause conflict and misunderstanding – without being passive or aggressive.
In short, professionals need to be assertive. With Guthrie-Jensen's Communication Assertiveness seminar, you and your colleagues will be able to
Assess your way of communicating and determine changes to be made to attain assertiveness
Avoid passive or aggressive communication
Choose your words carefully to obtain the best results in every interpersonal situation
Speak and act assertively
Project an image of assertiveness by maximizing the communication tools of words, voice and body language
Begin, carry and end conversations with style
Get and keep positive attention
Participate more actively and positively in group activities
Use tact and diplomacy to overcome rude communication
Learn to say "no" gracefully
This program is for people in your organization who want to develop their assertiveness and not aggressiveness.
Testimonials
"You'll get your money's worth in attending Guthrie-Jensen's training programs."
Lito Palos – Help Desk Analyst, Infonxx Phils., Inc.

"Highly recommended training! I will surely apply the knowledge learned throughout the training.Thanks a lot!"
Oliver Magsakay – Data Analyst, CBS Asia

"Best training in Communication Assertiveness I ever had. Gave me a wake up call on the things I needed to improve and things I already practice which are right but I thought before were wrong."
Ianne Gianan – Accountant, Chevron Holdings

"Trainers are very professional. You will really see that they are very knowledgeable on the topics that are discussing. Excellent methodologies."
Glenda Tan – Support Specialist, Misys Healthcare

"I recommend this very practical program not only to employees but also to supervisors and managers for the following reasons: there is good harmony of theory and practice; the program is well organized; and maximizes participants involvement."
Rommel C. Narciso – Assistant Manager for Investment, Production, CLARK DEVELOPMENT CORPORATION

"Communication Assertiveness Training- I highly recommend this training to all not only in the corporate world but also to people who would like to be more confident in their daily conversation. The principles, tools and techniques are very much applicable.
The trainer shows mastery of the subject matter."
Nelia M. Malinao – System and Methods Analyst, SUNLIFE FINANCIAL

"Learned a lot about assertiveness. Will definitely recommend Guthrie-Jensen to others. Looking forward to attending more seminars."
Jhun Villongco – Citiservice Officer, Citigroup