8 Tips for Throwing an Office Christmas Party Your Employees Will Enjoy
It's that time of the year again when you need to put your people management skills and party planning to the test by organizing an office Christmas party.
Throwing an office Christmas party is the perfect opportunity for companies to thank and celebrate their employees for their hard work and loyalty. It's also a great way to boost employee morale and improve the company culture, which are vital factors in any organization's success.
Planning the company's year-end bash is not an easy feat, but it's essential to your organization's overall success. However, some office parties are complete bummers, with people skulking in corners or some getting too drunk for others' liking.
Then again, not all office holiday parties are recipes for disaster. In fact, some companies throw such remarkable holiday events that make employees look forward to it every year.
Yes, the pressure is on. So, let's get to it! Here are some useful tips to help you throw the most awesome Christmas party that your employees will surely be talking about for weeks!
1. Pick a date and start looking for a venue.
Make sure to pick a date that's convenient for everyone—from the top executives down to the associates and office staff. Get everyone to plot the date in their calendars and start hunting for the perfect venue.
Don't dilly-dally in this aspect because the best venues get booked fast, and you don't want to end up holding your Christmas party in the office cafeteria. Get out of the office because no one wants to party in the exact place that gives them stress.

2. Have a Christmas party theme.
Here's your chance to get creative. Pick a theme that ties everything together, whether that's ghosts of Christmas past or the elves of Christmas future.
A theme helps boost the excitement for the party. You can even ask your employees to come in costume. If you chose a winter wonderland or white Christmas theme, then ask your employees to come in white!
Perhaps you can also provide novelty hats or pins at the entrance which employees can wear during the event.
3. Prepare the menu.
You don't want your employees to remember this year's office Christmas party as "the one with the terrible food." So, make sure to coordinate with the caterer and pick a menu that everyone will appreciate.
Consider the different food preferences of your employees. Ask around if there's anyone who needs kosher or halal meat? Are there any vegetarians in the office? Make sure there's something for everyone (aside from the wine, of course).
For larger groups, a buffet would be ideal, as this enables people to eat at their own pace and come back for seconds. Drinks will be flowing, and people tend to get hungry again after drinking. You don't want your employees heading out to another bar or restaurant just because you ran out of food.
4. Make a seating plan.
If you're worried about how to influence people to mingle, then create a seating arrangement. You know the classic cafeteria scene in high school movies where cliques hang together at one table, and some students find themselves sitting alone in one table? You don't want your employees to revisit their awkward teen moments.
Put your excellent people management skills to good use here. Make a seating plan to ensure that everybody has a place in the party.
You could even mix up teams and help people socialize more. It's a great strategy to foster camaraderie, encourage employees to get to know each other better, and engage in small talk.
5. Include games and activities.
Fun games and activities are great in encouraging a little healthy competition and getting teams together. Make it team focused, but mix up the team members so that employees will interact with other people they usually wouldn't socialize with.
Ensure that the game is easy to participate in so that your employees will be comfortable, relaxed, and still be within their comfort zone.
Most importantly, include novelty prizes for game winners! If you have little budget for prizes and giveaways, you can reach out to your clients for novelty items to give your employees.
6. Allot time for socialization and small talk.
Don't pack the whole evening with activities. Allot time for socialization where employees can get to know each other and mingle with their peers from other departments.
Leaders can also use this time to interact with their staff. It's an excellent way for everyone to break down barriers, encourage solidarity, and even build friendships.
Just make sure not to insert work issues during this time, as there's no bigger mood killer than reminding your employee of a deadline they need to meet during the party.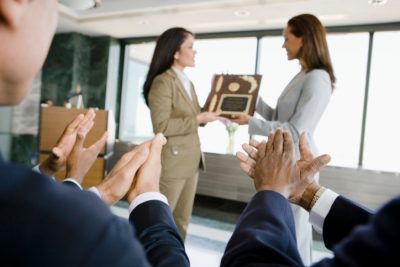 7. Recognize and reward employees.
Include a recognition and awards segment in your programme to celebrate hard work and achievements. Recognizing and rewarding employees who reach achievable targets and goals will also motivate the rest of your employees.
After celebrating the top employees, you can introduce the rookies to make them feel welcome. You can even announce this year's Christmas bonus during the programme!
8. Don't forget the entertainment!
Whether it's a full band, a DJ, or a group of musicians within your organization, it's important to consider the entertainment after the official programme.
Upbeat and lively music will keep the fun going and even encourage employees to hit the dance floor and socialize with each other.
The main goal of your office Christmas party is socialization. You want your employees to socialize with each other to boost morale, improve company culture, and increase teamwork and camaraderie. So, organize your office Christmas party now and show your employees how thankful you are for their hard work.