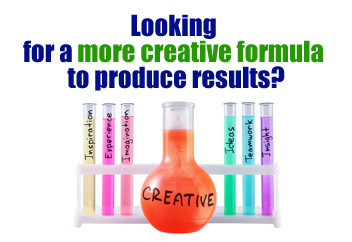 Intensified competition. Shrinking budgets and resources. Fewer employees. Tough deadlines.  These are some of the challenges that companies and professionals across different levels face today.  So how can professionals still perform well– and even better — despite these obstacles?
Professionals need the right mix of creativity and innovation that would translate into better processes, more competitive product and service offerings, more efficient performance, greater profit margins, and better performance against the competition.
Innovation is not the function of R&D alone.  All professionals need to innovate and contribute to the growth of the organization.  And with innovation, professionals need to be street-wise, or "ma-diskarte" as we say in Filipino.
Now, Guthrie-Jensen offers a practical and easy approach for professionals to concretely apply creativity and innovation at the workplace.  With our Creativity and Innovation @ Work Seminar, you and your people will be able to
Translate problems into opportunities to grow your unit or organization.
Overcome barriers that prevent companies from innovating.
Apply creative, out-of-the-box thinking.
Develop initiatives for system enhancement, maximization of resources, savings generation, and greater productivity.
Improve existing products and services to increase customer loyalty.
Develop innovative, market-driven products, services, or business solutions.
Use creativity to find an advantage over your competition.
Learn the best practices of successful organizations and professionals and apply them to your company.
Conceptualize innovative yet implementable projects that would propel the long term growth of the team or organization.
The best and most admired companies are creative and innovative.  Be at par with the best.  Join Guthrie-Jensen's Creativity and Innovation @ Work Seminar today!
This program is for Managers, Team Leaders, Supervisors, Senior Staff and Associates who want to improve productivity and grow the team or organization using practical innovation techniques.
This is recommended for professionals strategizing for projects and initiatives as well.  Also ideal for past participants of Business Process Improvement Made Simple, Strategic Planning, Strategic Marketing, Operational Planning, People Handling Skills, and Managing for Results